Digerati50: 'I have never had fear'
By Dzof Azmi May 8, 2021
Khairuddin Rahman walks very thin line between bravery & stupidity
Leveraging nearly 25 years of experience with satellite technology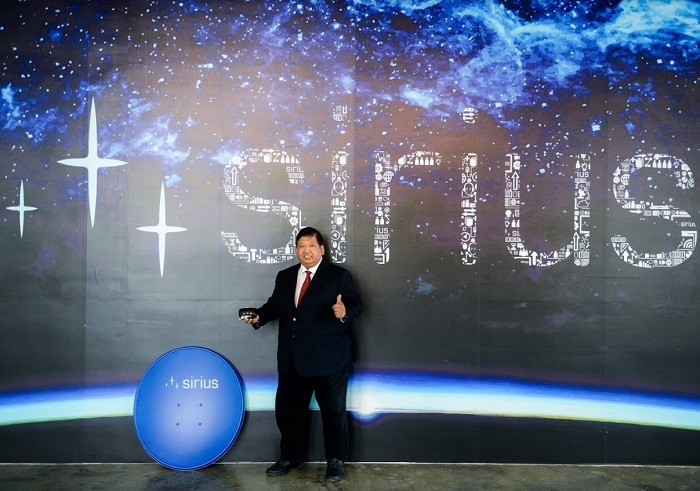 Digital News Asia (DNA) continues its series that profiles 50 influencers who are helping shape Malaysia's Digital Economy, from Digerati50 2020-2021 (Vol 4), a special biennial print publication released in July 2020. The digital copy can be downloaded from the sidebar link.
The following article is an expanded version of the print edition.
"I'm in the business of satellites." Khairuddin Abdul Rahman, SIRIUS TV and Orion & Sirius International Group CEO, is keen to remind us why he is the man to go head-to-head against Astro Malaysia, the country's de facto leader in satellite TV for the last 26 years.
Astro's exclusive license for satellite TV expired in 2017, and soon after, four other companies were awarded a Content Applications Service Provider (CASP) license to operate their own satellite TV service. Since that time, it's hard to say that there has been a serious challenger to Astro in the space. Until perhaps now.
Khairuddin is so confident he has something worth backing that he started Sirius TV using his own money. It was a not insignificant US$2.43 million (RM10 million) invested to get started. Yet, this pales when compared to Astro's capital expenditure of US$24.3 million (RM100 million) when they rolled out HDTV broadcast back in 2009.
But with a deep domain expertise in the space, he does not need to doll out bucket loads of capital. "Coming from a satellite person, it's a lot easier to manage all those costs. I don't have to start from ground zero."
In 1996, almost a quarter of a century ago, Khairuddin's Smart Digital Communications Bhd, which was awarded the Network Facility Provider individual licence and Network Services Provider individual licences by the Malaysian Communications and Multimedia Commission. It offered broadband satellite services to facilitate Internet access, teleconferencing, and direct video broadcasting.
In fact, the hardest thing Khairuddin had to do to get Sirius off the ground was getting the approval from SIRIM for the peripherals, which he finally got in early 2020. "(That) I cannot control! The rest of it, I am able to control."
And he's ready to push ahead. "What I have been doing for the last 20 years is to carry somebody else's video," he observed. "Now I'm doing it for myself."
Customers and providers are looking for a change
Part of his confidence stems from what he has found out from surveying both content provider and probable customers. He also knows he has to be able to offer something quite distinct from his cash- and content-rich competitor.
In August and September 2019, Sirius conducted a survey which revealed that only less than a quarter surveyed were satisfied with the current satellite TV content they had. Just over 12% were considering terminating soon.
Even more excitingly, when presented with an alternative satellite TV station, nearly 40% said they would change, and a similar number said they would consider pricing in making their decision, with around 80% willing to only pay less than RM50 a month.
The question now was whether they could find quality content at an affordable price, and began to make enquiries.
"When we met up with content providers, (they said) they are looking for a completely different pay TV player (in Malaysia) for them to venture with," recalled Khairuddin. "They have been dealing with Astro for so long."
As a result, content owners are now willing to revenue share, a model that helps keep his initial costs low.
Khairuddin believes that there is plenty of room left to compete in the satellite TV market, pointing to Astro's offer in early 2020 to upgrade their NJOI customers (who currently enjoy free-to-air channels via satellite) at a special discount.
He believes this is in direct reaction to the announcement of his offering. "They know that the existence of Sirius will be the biggest threat to them."
"I've never had fear"
Truth is, Khairuddin wants it all for Sirius. The more obvious ones include a shopping channel (where users can scan a QR code to buy things), and opportunities for third-parties to lease channels. He is also planning to produce his own content, as well as partner with over-the-top (OTT) media services so that customers in areas with poor internet access can still access on-demand content downloaded over the satellite link.
He is also hoping to offer different types of set-top boxes, including ones with built-in SIM cards, and another which will act as a router with a hotspot for your home devices.
[Ed: Khairuddin is now Test broadcasting On Air with 15 channels. He has also launched the SMART Wifi in Sabah to bridge the digital divide in sub-urban and rural areas which lack sufficient or do not have data coverage.]
To get this done, he is looking for partners and willing to offer equity to those brazen enough to line up alongside him to take on the incumbent.
He even lists Measat as a technology partner, as the Measat Teleport Broadcast Centre stages all the equipment used by Sirius, with a full duplex 1 Gbit/s fibre link to the Sirius TV office in Cyberjaya. (MEASAT Broadcast Network Systems Sdn Bhd is wholly owned by Astro Malaysia Holdings Bhd.) However, he is less certain about partnering with Astro, preferring to take his chances and go head-to-head.
"There's a very thin line between bravery and stupidity," he admits. "I don't have any fear. I've never had fear."
---
Digerati50 2020/2021 is proudly sponsored by Maxis - Powering Malaysia's 5G era.
Keyword(s) :
Author Name :