Digerati50: The first step is the hardest
By Lum Ka Kay December 10, 2016
Karl Loo overcomes comfort zone of stable salary, naysayers to launch ServisHero
Invested heavily in creating a seamless mobile app experience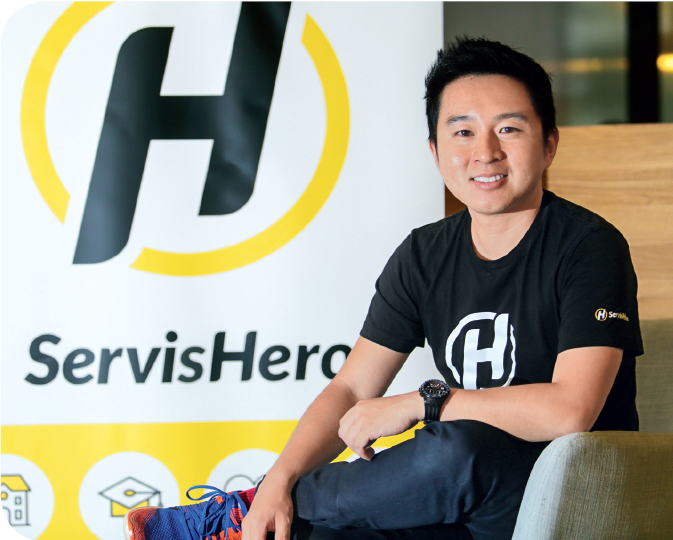 This article formed part of the Digerati50 magazine that was published in Feb 2016. The digital version of that publication can be downloaded from the links at the top right corner of the page thanks to the sponsorship of Telekom Malaysia Bhd, Malaysia's broadband champion.
DESPITE coming from a family of entrepreneurs – his parents own a real estate brokerage company and at one time even had a small radio station in New Zealand – Karl Loo (pic) never dreamed of becoming one himself.
Instead, the cofounder and chief executive officer of on-demand services mobile marketplace ServisHero pursued a law degree.
"With my interest in computers and technology, I specifically wanted to become an IT lawyer. Getting to observe fast-growing tech companies as a legal advisor and employee set alight my interest in entrepreneurship," he says.
After spending three years advising tech and telecommunications companies, including YouTube and Nokia, Karl went on to join Groupon in China, where his eyes were opened to what could be achieved with technology in a short space of time.
This led him to cofound several e-commerce startups in South Africa that were later acquired by an international media company, and then – after getting an MBA at Oxford University– he followed it up with a stint in the Silicon Valley.
He finally decided to return to Malaysia in 2015 – and promptly got frustrated when he tried looking for an electrician. The last straw came when someone suggested he look for those largely illegal advertising signs posted on streetlamp poles and trees outside his apartment.
"It took me hours to assemble a few quotes for my air-conditioner repair job after compiling contacts from various sources – friends, the Yellow Pages, web directories … and trees!" he exclaims.
This led to the idea for ServisHero, his on-demand services startup. Karl claims customers can get a response to a service request within 30 seconds via its mobile app, something that he takes great pride in.
"Based on our own tests, we provide the fastest response times in the industry.
"We are a mobile-first company, and we have invested heavily in creating a seamless mobile app experience. There's no faster way to make a request for local service quotes than through our app," he boasts.
According to Karl, ServisHero has more than 1,000 service providers on board; processes hundreds of transactions daily; and has seen more than 35,000 downloads of its app since it launched in June 2015.
Not that he hasn't seen any challenges along the way, with the biggest one being just taking that first step.
"Leaving a comfortable career with a predictable salary can be daunting. Taking the leap to start this journey and ignoring naysayers is a difficult step to take," he says of his entrepreneurial journey.
"Apart from that, like other startups, maintaining momentum as the company scales is also a challenge I must constantly address," he adds.
But now that ServisHero is up and running in Malaysia and Singapore, the focus for 2016 will be to explore new markets in Asia.
Karl also aims to expand ServisHero's category selection to at least 100 from the current 30.
There is a bit of the social entrepreneur in him as well, and he wants ServisHero to bring more freelancers and under-employed citizens to its platform.
"We think there is a large opportunity for ServisHero for not just existing small and medium enterprises, but also for a new breed of freelance workers who want to create new income opportunities.
"We believe that ServisHero has a major 'social impact' role to play and has the potential to increase income levels in the region.
"Thus, we have started to work with government agencies to help bring under-employed citizens onto our platform," he says. Watch out for more such initiatives.
Latest News on ServisHero post-Digerati50 publication in Feb 2016:
ServisHero secures US$2.7mil pre-Series A
ServisHero out to simplify digital marketing for local businesses
ServisHero integrates with Grab to ease transportation for local service providers
For more technology news and the latest updates, follow us on Twitter, LinkedIn or Like us on Facebook.
Keyword(s) :
Author Name :