Digerati 50 – Animonsta's Nizam Razak is a man of characters
By Tan Jee Yee November 20, 2021
No longer an animation production firm, rather, a 'character company'
Key advice – the tech will change, humanity will not, so focus on the storytelling
Digital News Asia (DNA) continues its series that profiles 50 influencers who are helping shape Malaysia's Digital Economy, from Digerati50 2020-2021 (Vol 4), a special biennial print publication released in July 2020. The digital copy can be downloaded from the sidebar link.
The following in a version of the article which first appeared in print edition in June 2020.
Like most Malaysian children of the 80s and 90s, Nizam Razak grew up with a hearty diet of Dragon Ball and Doraemon, as well as the works of Hong Kong manhua artist Tony Wong. "It started with me liking the stories, but looking back, it's really because I liked the characters."
Fast forward a few decades, and Nizam – alongside his company Animonsta – have created an icon that Malaysian children can look up to. Boboiboy, the tale of a heroic boy who fights invading aliens and subsequently travel the galaxy as an intergalactic peacekeeper, is one of Malaysia's greatest homegrown franchises, encapsulating two TV series, more than 300 merchandising products and two theatrical films – the latest in mid-2019 racked up over US$7.17 million (RM30 million) in the box office.
Yet it didn't start with animation. Rather, a young Nizam in 1998 received a computer from his mother, which connected him to friends with the same interests. From there, he picked up graphic design from MMU University in Cyberjaya, spending a year on foundation studies.
Nizam began dabbling in animation then, first by learning on his own but realising quickly that its intricacies and technicality require mentors and teachers. He took a three-year major in animation and met the people who would eventually form the superhero team of Animonsta years later.
It's also where he found his calling. For his final year project, Nizam and his classmates created an animated short called Misi Mustahak, which centres on a trio of geriatrics breaking curfew at a nursing home, Mission: Impossible-style. Watching as a whole hall of 300 students and lecturers laugh and be entertained, Nizam set himself a goal. If they could make 300 people laugh, why not 30 million people? Why not an entire nation? Why not billions worldwide?
One can say that he's right on track. Boboiboy can be seen in more than 70 countries. Yet the creative entrepreneur isn't resting on his laurels. Animonsta intends to release MechAmato, the company's second intellectual property (IP) with a major global broadcaster, and aiming to collaborate with a Japanese toymaker.
[Ed: The animation series will debut on Cartoon Network Asia Pacific (not just Malaysia) on Dec 4.]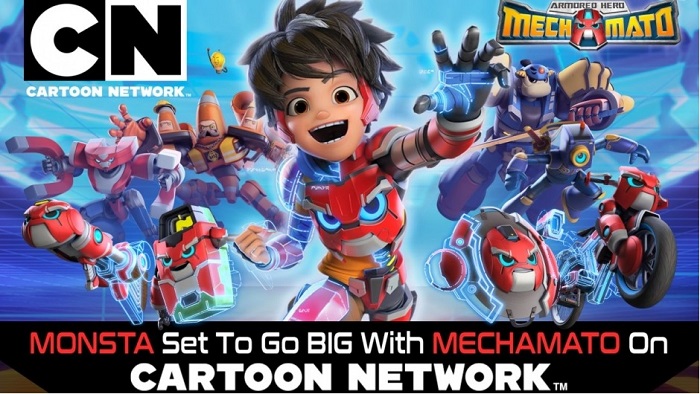 Nizam certainly has to think ahead. The media landscape is changing rapidly, and thus far they have been able to adapt accordingly. One such way is in Nizam's decision to upload Boboiboy episodes on YouTube, a decision that initially roused scepticism. But it was a necessary move – the series had lost a prime slot on TV. At the same time, releasing content on YouTube means Animonsta gets to decide when their episodes air.
In 2014, they began uploading promo videos and full episodes on their YouTube channel. Today, they have more than 12 channels under the Monsta YouTube Network, serving various content to 10 million subscribers across different regions.
After millions of views, ad revenue from YouTube brings more revenue than what stations could pay. But even now, they had to rethink this, as starting in 2020, YouTube has changed its policy for children's content, which blocks data collection for all viewers and resulting in lower ad revenue.
Nizam, however, no stranger to changes. Technology in animation goes through massive shifts and changes constantly, and what used to be locked off to large production companies are now available cheaper and more accessibly. This means that Animonsta has to keep a vigilant eye on tech and trends that will aid them.
Already this has paid off. Boboiboy: The Movie 2 managed to finish production in 12 months – a very short time period for an animated film – because they looked into the Redshift Rendering software and experimented early enough for them to comfortably use it for the movie, cutting down rendering time tremendously (while saving production cost).
Besides his focus on acquiring and retaining talent, he also emphasises on storytelling – the most important thing as a creative company. Here's one key advice he gives when mentoring - "Tech will change, but stories remain. I think of the fundamental aspects of humanity – it used to be oral storytelling and wall paintings, then television and cinema and radio. Now, you have a storytelling device in our pocket."
Another advice: don't forget that while the craft of animation is important, a creative company is ultimately a business. "Having partners that help bridge the gaps of your own limitations, just like my partners, is very important."
Nizam no longer considers Animonsta an animation production company. Rather, he calls it a "character company", drawing inspiration from how Japanese companies see animation more as a medium, and them as producers and maintainers of characters. "That changed our perspective. Now, we look at who our characters are and what they can represent."
You can already see this with the upcoming MechAmato series, which Nizam says is created to inspire children in this era of digital technology. "I want MechAmato to inspire children to imagine the possibilities, to use technology responsibly."
Ultimately, he wants to create characters that leave a lasting impact. Just like how Doraemon helped shape him into a creator, he hopes Boboiboy and MechAmato can shape another child's future. "The future of our country may have grown up watching what we created. It's funny, and amazing, to think of it this way."
---
Digerati50 2020/2021 is proudly sponsored by Maxis - Powering Malaysia's 5G era.
Related Stories :
Keyword(s) :
Author Name :