The five-cloud industry consolidation, and Workday's target
By Gabey Goh June 30, 2015
Industry, IT, collaborative, finance, and HR clouds – you name it
Workday aiming for leadership position in the last two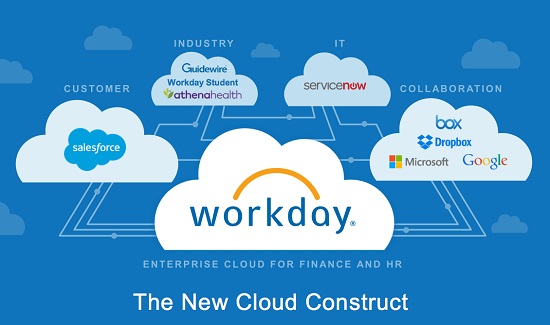 AS cloud-based software services continue to grow and mature, this would lead to the 'cementation' of providers dominating based on subject matter expertise.

At least, that is what Phil Wilmington, executive vice president of field operations at California-based on-demand financial management and human capital management software vendor Workday, believes.

"The easiest and largest one to associate with is the customer cloud, where Salesforce is defining customer cloud provision for customer relationship management," he says, speaking at the Singapore leg of a recent two-month Workday roadshow in 22 key markets that the company conducted in conjunction with its 10th anniversary.

"We believe that there will be the emergence of five key clouds that will impact businesses," says Wilmington.

"The first will be industry clouds, the provision of applications that are specific to the functional requirement of a particular industry – be it healthcare or education.

"There will also be IT clouds such as ServiceNow, for service provision, helpdesk and IT monitoring.

"Just because the cloud has arrived doesn't remove the need for business to have different types of requirements for how technology is utilised or users are assisted," he adds.

Then there'll be collaborative clouds dominated by companies like Microsoft, DropBox and Google for communications, document sharing and collaboration, says Wilmington.

Workday intends to be the definitive provider in the finance and HR (human resource) cloud for enterprises.
READ ALSO: Moving to the hybrid cloud in three steps


Wilmington (pic) argues that cloud-to-cloud integration would be a critical element for industry growth.
"This will enable seamless data sharing not through cumbersome user interfaces or changed every time a cloud has an update – but real cloud-to-cloud sharing without compromising the trust customers have in us in using our services," he says.
In mid-June, Workday participated as a strategic investor in financial planning and analysis software company Tidemark's new US$25-million funding round.
In 2014, it also invested in Anaplan, a cloud-based business modelling and planning platform for sales, operations and finance.
Up against Oracle
Workday counts companies such as Hewlett-Packard, Netflix and LinkedIn as customers. Along with Maxis, Asean customers include Agoda and Scoot, while in the wider Asia Pacific region it counts MGM Macau, Nissan, Lenovo and Haier as customers.
The company released its financial results for the first quarter of 2015 in May, reporting total revenue of US$251.0 million and an operating loss of US$53.4 million.
It saw a dip in its stock price after acknowledging pricing pressure from competitor Oracle, which is offering steep discounts when competing for deals, noted Jefferies analyst John DiFucci in an interview with Business Insider.
DiFucci also asked Workday chief executive officer Aneel Bhusri about it during the quarterly conference call, and Bhusri said in reply that Oracle has been a strong competitor.
"I'd say right now Oracle has its act together better than SAP. SAP seems to be in a bit of disarray," Bhusri said.
Workday chief financial officer Mark Peek said that the company generated record quarterly revenues.
"Looking ahead, we anticipate second quarter total revenue to be within [the] range of US$270 million and US$274 million, or growth of 45% to 47% as compared with the prior year," he added.
The service in SaaS
Wilmington declares that Workday's success is driven by its relationships with customers – more than 925 globally.
"In the Software-as-a-Service (Saas) industry, you have two 'S' – software and services – everyone else is still focussed on the first 'S' and neglecting the second, which is equally, if not more, important," he says.
As a SaaS provider, Workday uses third party hosted data centres in Ashburn in Virginia; Lithia Springs in Georgia; Portland in Oregon; Dublin in Ireland; and Amsterdam in the Netherlands.
The company said it has no immediate plans to add a data centre in Asia Pacific, but is continuously evaluating the needs of its business and customers.
In terms of its presence in South-East Asia, it has been focused on Singapore but recently opened up operations in Kuala Lumpur, and intends to expand to Thailand and Indonesia after that.
It sees opportunities in "industries where knowledge workers form the core of the business … such as insurance, financial services, transportation and hospitality," says Tim Darton, general manager of South Asia at Workday.
"However we've also seen a wide degree of interest from across a number of organisations in the region," he adds.
Wilmington says the company's strategy moving forward is to continue to leverage on its technology stack and the 'clean sheet' approach it has.
"Our ability to expand functionality throughout the enterprise will be a key differentiator. Our modules are not bolt-ons but add-on extensions developed within the same tech framework – which means that … record-keeping data does not need to be re-inputted and the user interface stays the same throughout.
"In addition, we will focus on the expansion of our analytics capabilities, data manipulation and reporting – delivered to customers with the same easy-to-use mechanism," he claims.
Previous Instalment: Millennials and digital transformation: The HR question
For more technology news and the latest updates, follow us on Twitter, LinkedIn or Like us on Facebook.
Keyword(s) :
Author Name :