Brick-and-mortar retailer Alfamart goes full throttle on e-commerce
By Masyitha Baziad May 31, 2016
Transforms current AlfaOnline into full-fledged e-commerce site Alfacart
Leveraging more than 12K physical outlets, aims to grow e-commerce customer base
ONE of Indonesia's biggest brick-and-mortar retailers, PT Sumber Alfaria Trijaya (Alfamart Group), has completed its e-commerce transformation with the birth of Alfacart, driven by three young executives who were previously from Zalora and Lazada.

Alfamart put its toes into digital waters with AlfaOnline.com in 2013, hoping to tap into the online shopping trend and e-commerce boom in Indonesia.

This was not enough, argued Alfacart chief executive officer Catherine Hindra Sutjahjo, who previously helped establish Zalora's business in Indonesia.

"Our digital presence needed to be transformed into full-fledged e-commerce to be able to win the market and contribute significantly to the group's revenue," she said.

"So we rebranded AlfaOnline.com to Alfacart.com … to lead the market, especially in the groceries and daily needs categories," she told Digital News Asia (DNA) in Jakarta, admitting that Alfamart was a bit late entering the e-commerce sector.

Tapping on the physical for O2O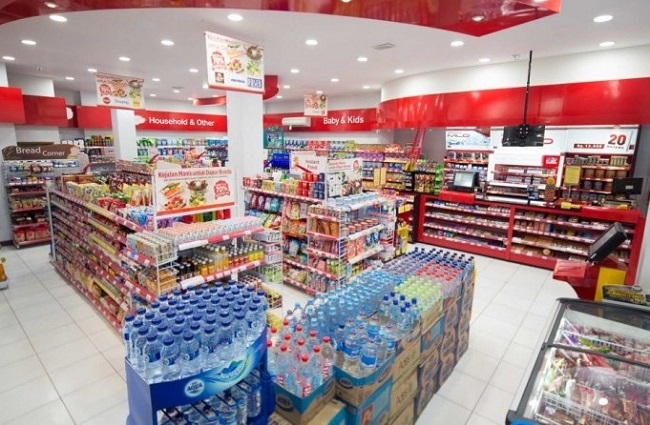 As a subsidiary of the Alfamart Group, Alfacart can tap onto its parent's network of more than 12,000 outlets and 32 distribution centres.

As of March, there were 11,359 Alfamart outlets, 3,173 of them under franchise. The group also operates 1,108 Alfamidi, Alfa Supermarket, and Japan's Lawson outlets. It has 96,000 employees in total.

In 2013, the Alfamart Group, through another subsidiary PT Sumber Indah Lestari, opened Dan+Dan health and beauty outlets – there are now 88 such outlets, with 400 employees.

The Alfamart brand itself currently holds a 30.3% market share in Indonesia's modern mini-mart industry.

"We have 7,000 Alfamart outlets all over the country that are now connected to Alfacart, and we hope to connect all outlets in the next few years," said Alfacart chief operating officer Haryo Suryo Putro.

He claimed that by connecting Alfamart outlets to the Alfacart platform, it would become the first e-commerce player in the online-to-offline (O2O) business in Indonesia, with its reach stretching even into rural areas.

He said that the company is also in the process of integrating Alfamart's distribution centres to its back-end system to give a "more powerful customer experience."

"Alfamart has been around for more than 20 years, it has built its brand and reputation, it has the biggest network, and this is something that we can leverage on," said Catherine.

"Alfamart has received many requests to be the pickup point for other e-commerce players, but why don't we make our outlets our own pickup points? It makes more sense," she added.

Independent and more nimble


The Alfamart Group was previously running AlfaOnline.com as the online channel of its brick-and-mortar business, which meant selling only products that are sold at Alfamart outlets.

In 2015, the group decided to spin off AlfaOnline.com and let it become a separate entity under PT Sumber Trijaya Lestari, which it wholly owns.

This move was necessary according to Catherine, who said it was the right way to transform a brick-and-mortar company: Start by seeing online as a channel, then establish your own e-commerce platform.

"It was a strategic decision to separate AlfaOnline from Alfamart – it shows that the group realises the online channel is no longer a mere supporting channel, but a supporting business on its own," she said.

"With the separation, we were able to rebrand AlfaOnline to Alfacart – we can set our targets higher, and we can run faster," she added.

Expanding the online customer base

According to some estimates, e-commerce accounted for below 1% of Indonesia's total retail market.

Catherine believes it is even lower, at around 0.6% to 0.7%. This actually plays into her game-plan.

"Most online shoppers are still in the big cities in Java and Sumatra – these are people who are exposed to more information about online shopping," she said.

"For people in rural areas who do not understand what is online shopping, who do not know how to do it, someone needs to play a part.

"We are not here to fight over the same customers. We are here to expand the customer base, to attract new customers to go online," she added.

Catherine said that with Alfamart outlets in small cities and rural areas, in-store employees would also be natural marketers for Alfacart. For example, they can explain what the online platform is all about as customers pay at the cashier counter.

"Our cashiers can also explain that when customers order online, they can pick up their goods at the same Alfamart outlet and pay cash there," she said.

This would also address the issue of limited banking services and credit card access in rural areas.

Catherine said that that the Alfacart team is actively training Alfamart outlet employees on how to promote the e-commerce platform, and it is already part of the onboarding programme for new employees.

More categories, opening up to SMBs


Meanwhile, Alfacart is looking to expand beyond the traditional mini-mart fare and get into fashion, consumer electronics and lifestyle products.

Chief commercial officer Ernest Tjahjana said that Alfacart will deploy exclusive deals and partnerships in the fashion category to differentiate it from other e-commerce players.

"We will definitely expand beyond our daily needs and groceries verticals since it's a full-fledged e-commerce site … we want to add more categories," he said.

It also wants to make it easier for local small and medium businesses (SMBs) to sell their products online.

Again, leveraging on Alfamart's network, SMBs can drop off their products at the nearest outlet to be picked up by their customers.

Alfacart will soon announce a pre-approved loan scheme for SMBs which would like to scale their business and become its partners.

For this, Alfacart is allying with Bank Sampoerna of the Sampoerna Strategic Group, in which Alfamart Group has a 10.8% share through its subsidiary PT Cakrawala Mulia Prima.

Related Stories:
Indonesian retail giant MAP dives deep into e-commerce
What's Next: Traditional retailers do have an edge

MatahariMall.com aims to be the 'Alibaba' of Indonesia

Retail giant Senheng to enter e-commerce fray with O2O model


For more technology news and the latest updates, follow us on Twitter, LinkedIn or Like us on Facebook.

Keyword(s) :
Author Name :