BlackBerry CEO: 'We've done good but must now grow our business' : Page 2 of 2
By Edwin Yapp November 10, 2017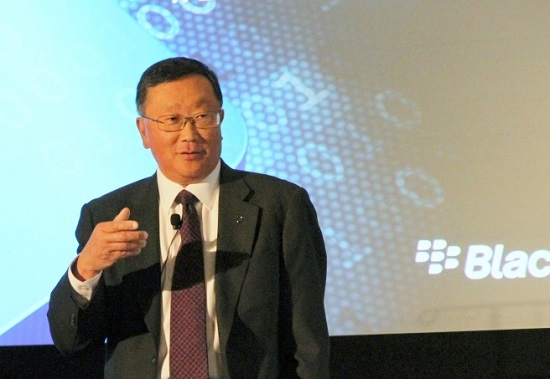 Q. How do you see the 'new' BlackBerry – the one that's moving out of the hardware handset market into software security – play out especially in the Southeast Asian (SEA) market?
Chen: Our brand comprises two products; one is the BlackBerry phone and BlackBerry Messenger (BBM) technology. In both cases, we've found partners to address those markets. I'm not willing to give up the handset market yet but what I'm willing to do is to not build the hardware. This is why we've chosen to license our brand to Chinese handset maker TCL Corp, PT BB Merah Putih in Indonesia and Optiemus Infracom Ltd in India.
SEA today is a very consumer-driven world and I want to make sure customers are still taken care of by our partners in the region. That's why we've signed up with these companies to take our technology and brand and for them to put it in the devices, manufacture and market them in SEA. Our strategy is to employ partners to address such markets.
Q. But what about your security software efforts in SEA then?
Chen: The governments in SEA such as the financial services industries (FSIs) and multinationals (MNCs) all need secure mobile technology and I believe there seems to be a lot of interest from them. In Indonesia for example, we have a partnership with Telkomsel and Indosat, to sell our software both on the cloud as well as on premise. They are basically our resellers.
Businesses in SEA are dominated by small and medium enterprises (SMEs) and our strategy is to use partners to reach them. For the government sector, we work with different partners because they buy software differently than SMEs. In Indonesia, they have a few major local software houses that the government buys from. We will have to go to each country and understand how they procure software and either directly work with them or with a partner that can provide this.
Q. In your keynote address, you mentioned your priority is to grow your channel partners. What do you mean exactly?
Chen: The current practice is for regulated industries such as FSI, government, healthcare companies to use a direct sales force, where we build a team and have a country manager and a local structure to manage that. For other verticals not in that category, we tend to use partners, system integrators (SIs), software application providers, value-added resellers and consulting firms to reach our markets. In SEA, we will mostly use partners, and hence the need to grow them.
Q. What is BlackBerry going to be focussed on in 2018?
Chen: We've done good in growing the software and services revenue but I have to start growing the company beyond these areas. We need to because the old revenue such as service activation fees will decline, and this is something I've already told the analysts to expect. In fact, by 2018, there will be no direct handset revenue because we've sold off our remaining hardware inventories. But next year, there will be revenue from royalties from companies like PT BB Merah Putih because when they start selling smartphones, they will pay us and our royalty revenue will go up. So, in 2018, we hope that we will start seeing this royalty growth on a consistent basis.
Q. How about BlackBerry's QNX business? How do you see it going forward for 2018 and beyond?
Chen: On QNX, the focus so far has been about selling embedded software to auto makers and some IoT companies, such as the deal inked with Ford last year and more recently Delphi this year. Our aim is to build more recurring and service-oriented revenue. Essentially, we aim to create a 'surface business,' such as how to ensure a car is cyber ready on a continuous basis. The other area where we need to start doing more is to embed QNX into more than just cars, such as other verticals including heavy industry and medical, and we will continue to push for that.
Q. Is BlackBerry going to continue to focus more on research and development (R&D) or on acquiring technology?
Chen: Most of our security knowhow is still going to come from within because it's the DNA of the company. If there are acquisition opportunities, we may acquire now that we have some positive cash flow. We won't buy a technology as I don't think that's our priority. In fact, we have more technology than we know what to do with! But if there is a tech company with a ready business and a go-to-market pipeline, then we will consider.
Q. What key piece of advice in do you have for IoT cyber-security?
Chen: For IoT readiness, we recently commissioned a survey in which the results suggest that companies, especially large ones with 10,000 employees or more are not as organised as they think they are and are not coordinated readily for cyber-security and/ or IoT security readiness.
Can we ever be rid of cyber-security threats? I think not. I think this is a physical process and it's up to a company's operational working model to determine how safe they are and how prepared they are.
It's really more than just technology as this is a cat-and-mouse game. For example, some of the largest cyber-security breaches are still because they have not updated their security software patches. There isn't a magic pill in security – It's really about the discipline, completeness in processes, a proactive cyber-security mindset and something that should permeate across a whole company.
Edwin Yapp reports from the BlackBerry Security Summit in London at the invitation of BlackBerry Ltd. All editorials are independent. He is contributing editor to Digital News Asia and an executive consultant at Tech Research Asia, an advisory firm that translates technology into business outcomes for executives in Asia Pacific.
Previous instalment from BlackBerry Security Summit, London
Comeback kid BlackBerry aims high but will it succeed?
For more technology news and the latest updates, follow us on Facebook,Twitter or LinkedIn.
Pages
Keyword(s) :
Author Name :