AirAsia posts 2Q18 revenue of US$635mil
By Digital News Asia August 31, 2018
RASK for the consolidated units of Malaysia, Indonesia, Philippines stood at 14.83 sen
Average fare per passenger and load carried reduced by 3% to US$41 and 86% respectively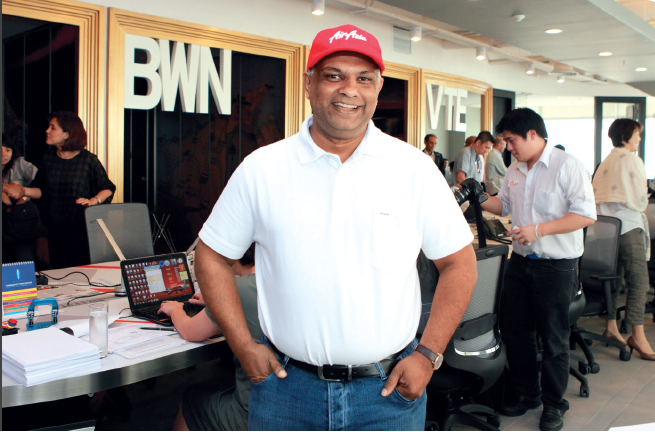 AirAsia Group Bhd on Aug 30 reported its results for the quarter ended June 30, 2018 (2Q18). AirAsia posted 2Q18 revenue of US$635 million (RM2.62 billion), up 10% year-on-year (y-o-y) from US$577 million (RM2.38 billion) in the same quarter in 2017.
Revenue growth was supported by strong load factor of 86% and 13% increase in passengers carried recording 10.88 million pax as compared to the same quarter last year.
(US$1 = RM4.10)
Net operating profit was RM324.8 million despite higher overall costs in fuel and overall aircraft maintenance & overhaul expenses.
Operating cash flow for the quarter under review was at RM1.18 billion and net cash flow of RM58.4 million. This cash position brings net gearing ratio down to 0.76 times as compared to 1.11 times at the end of 2017.
Revenue per Available Seat Kilometre (RASK) for the consolidated units of Malaysia, Indonesia and Philippines stood at 14.83 sen in 2Q18, lower by 3% from 15.35 sen as planned due to a 12% increase in ASK.
Average fare per passenger and load carried reduced by 3% to RM172 and 86% respectively, which was in line with the Consolidated Group's expectations due to rapid ASK addition.
Despite 12% ASK added, ancillary revenue grew 4% to RM492.6 million for the Consolidated Group.
AirAsia Thailand posted 2Q18 revenue of 9.06 billion baht, up 9% from 8.35 billion baht in the same quarter last year, on the back of 14% increase ASK and 13% increase in passengers carried.
The associate company of the group reported a slight decrease in average fare of 5% to 1,402 baht y-o-y as a result of competition as well as the low travel season. Seat load factor was recorded at 85%.
Net operating loss was reported at 653.9 million baht which led to a net loss after tax of 567.5 million baht, resulting from higher fuel costs in relation to the rising global oil prices.
Total ancillary income grew 13% to 1.63 billion baht y-o-y from the implementation of dynamic pricing and value pack promotion.
AirAsia India recorded an 86% increase in revenue to INR6.5 billion in 2Q18 from INR3.49 billion in the same quarter last year.
India has reported a net operating loss of INR515.9 million due to the added ASK to fulfill domestic demands as well as in accordance with a planned target to start flying Indian passengers internationally.
Despite the 80% ASK added, RASK grew by 3% to INR304 and fares were up by 1% to INR3,260 as compared to the same period in 2017.
Cost performance
For the Consolidated Group, overall costs was slightly higher largely due to the impact of higher fuel prices as well as an addition of 22 aircraft on operating lease as compared to last year this time.
The group's airline-related costs was well contained as a result of higher aircraft utilisation, active management on route rationalisation despite higher fuel, operating costs, maintenance & overhaul expenses.
Cost per Available Seat Kilometre (CASK) including fuel increased by 4% y-o-y to 13.77 sen in 2Q18, contributed by higher maintenance & overhaul and 29% in average fuel price to US$89/barrel jet kerosene as compared to last year this time at US$69/barrel.
CASK ex-fuel decreased by 2% year-on-year from 8.21 sen in 2Q17 to 8.05 sen in 2Q18 as a result of cost efficient operations and partially contributed by a 7.7% strengthening of the ringgit against the greenback from USD/MYR4.31 in 2Q17 to USD/MYR3.98 in 2Q18.
AirAsia Thailand reported a slight increase in CASK by 5% while CASK ex-fuel improved by 2% from 3.16 US cents in 2Q17 to 3.11 US cents in 2Q18, largely due to the increase in aircraft utilisation per day from 11.3 hours to 11.8 hours and the strengthening of the Thai Baht against USD by 5.8% year-on-year.
AirAsia India also reported a slight increase in CASK by 4% due to higher user charges & other related expenses, whilst CASK ex-fuel vastly improved by 10% from 2.86 US cents the same quarter last year to 2.57 US cents this quarter.
"As a whole, our operating profits were largely impacted by the rising global fuel prices and hence overall fuel related costs have gone up. Despite all adversities and circumstances, our financial performance was commendable, recording 125% up in net profits to RM315.3 million," said AirAsia Group Bhd group CEO Tony Fernandes (pic).
"We added 18 aircraft and an ASK of 12% for our Consolidated Group in order to serve the Asean air travel demand in 2Q18 as compared to 2Q17. From our load carried this quarter, most of the added seats were sold as we grew our passenger traffic by 13% for the Consolidated Group year-on-year to 10.88 million pax. Across the whole group, we added 31 aircraft as compared to last year this time.
"Overall CASK was well maintained group wide for all short-haul AOCs with the increase in aircraft utilisation from 12.7 hours to 13 hours a day year-on-year, despite the 29% increase in average fuel price."
"Going into the third quarter of 2018, our group load is seen to hold steady despite the added seats. For the full year, we are looking at a group load factor of 85%.
"We are almost reaching 14-hours a day on our daily aircraft utilisation by all AOCs as one of our effecting cost saving measures. We want to further improve the turnaround time and overall performance by each affiliate. AirAsia India's performance has been very promising, and we target to breakeven by FY19."
"As for fuel, we adhere to our policy by actively hedging according to our forward bookings. Our fare price will be adjusted according to the fuel price movements, and we foresee fuel to be ranged bound in the long run as global demand and supply rationalises."
"In terms of airports, we are pleased that the government is supportive of our growth plans and the battle is over. We are in the midst of getting a dedicated low-cost terminal in Penang by 2022, which will drive cost lower. We would like to turn Penang into a key northern transit hub connecting directly from Southeast Asia to this state.
"On returning value to our shareholders, we have paid an interim single-tier dividend on 13 July 2018 worth RM0.12 per share on 3,341,974,080 ordinary shares of RM0.10 for the financial year ending Dec 31, 2018. We have also received US$501 million for the aircraft leasing deal under Asia Aviation Capital Limited (AAC). We will announce a special dividend when the transaction on AAC concludes in 4Q18."
Keyword(s) :
Author Name :