Adobe calls on businesses to focus on digital experiences
By Chong Jinn Xiung May 21, 2018
People are buying experiences and not just a product
Companies like MAS and Petronas need to rethink their strategies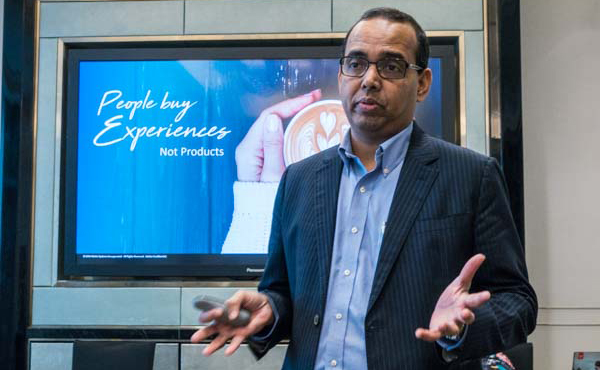 ADOBE recently concluded its second Experience Forum in Malaysia where it showcased technology enhancements to its Adobe Cloud Platform and shared how its customers were taking advantage of its solutions to deliver meaningful digital experiences.
Adobe Southeast Asia managing director V R Srivatsan (pic, above) said that Malaysia was a key market for Adobe in Southeast Asia as there is strong growth and the adoption of digital technology as well as e-commerce that have changed the way businesses engage with consumers.
He makes the case that people are buying experiences and not just a product. "Everyone is looking for phenomenal experiences. So, unless businesses step up and deliver good experiences consistently at every touch point, they would be left behind," he warned.
Nowhere is this more critical than in the airline industry. Explaining the fast-moving nature and focus on offering great customer experience was Malaysian Airlines' (MAS) head of digital Peter Pohlschmidt who spoke during the forum.
"The challenge we often face is how we bring together data that is normally segmented in different systems and offer a seamless experience for the customer as they move through different touch points," he said.
Elevating this experience is paramount for MAS as it uses tools like Adobe Cloud to figure out what do holidaymakers look for in their flight experience. Thanks in part to Adobe Analytics Cloud, machine learning integrates rich analytic capabilities with data management and audience syndication, taking guesswork out of the equation.
Even for a traditional company like Petronas, they are not counting on their profits from oil alone to float the company in the future. Petronas (Downstream) head of digital Andywira Othman stressed how the company aims to turn itself into a consumer brand.
Though he admits that Petronas is still a laggard in regards to adopting digital, he is hopeful that solutions like Adobe's Advertising Cloud will help in disseminating dynamic content to its customers rather than the old way of one-size fits all.
Adobe at least believes that businesses are taking its call to focus on customer experience seriously as its Creative Pulse 2017 survey that found that 52% of respondents put customer experiences front and centre of their strategy.
However, things are still picking up as only 21% of creatives are working on customer experience projects.
Marked improvements
At the Experience Forum, Adobe's next generation Cloud Platform took centre stage as it offered a new unified customer profile, Adobe Sensei services and General Data Protection Regulation (GDPR) readiness.
Adobe claims that the enhancements made will make it easier to unify data from completely separate systems by joining them in an Experience Cloud platform thus enabling data scientists and developers better able to understand and work with the data.
Adobe also highlighted how its Advertising Cloud works together with its Creative Cloud to enable marketers to easily craft campaigns that are optimally targeted at customers.
Meanwhile, Adobe unveiled that its Adobe Analytics for streaming audios is said to give brands a way to gain deep insights into online and offline audio by understanding listening behaviours.
With the latest release of Adobe's Experience Manager, the company showed how its Adobe Sensei-powered content capabilities in Experience Manager unify creative and marketer workflows for the first time.
Great technology alone isn't enough to transform businesses and Adobe knows this. It also introduced its Adobe Experience League, a new customer enablement program that provides guided learning to help customers get the most out of their Adobe Experience Cloud investment.
The company also introduced Adobe Experience Index, a self-assessment tool to help participants determine where they are in their development journey and what they need to do next.
Related Stories:
SEA office workers rate technology above all other office perks: Adobe Research
Lazada launches regional trade with DFTZ
Adobe urges brands not to neglect mobile experience
For more technology news and the latest updates, follow us on Facebook, Twitter or LinkedIn
Keyword(s) :
Author Name :
By commenting below, you agree to abide by our ground rules.